Genio 6 Shop Roaster
The start of a professional coffee roastery

The Genio 6 Shop Roaster is a 6kg shop coffee roaster ideal for start-up and medium-capacity roasteries. Our machines come standard with the Profile Control System and an external chaff cyclone for medium volume speciality coffee roasting.  You can roast from 1-6kg per batch and grow your business by selling your own roasted coffee beans.
Roasting Capacity

Profile Roasting: 1kg - 6kg


Technical Specifications

Roast time: ~12 minutes for 6kg
Interface: Wireless 10.4" tablet
Profile Control: Full profiling
Profile Storage: Up to 3000
Drum: Dual-wall convection heating optimized
Heating: 25kW gas burner (LPG/natural gas)
Electrical: 220V 50/60Hz single phase
Shipping specification

Shipping crate: 120cm (l) x 46cm (w) x 179cm (h)
Gross Weight: ~ 540kg (including crate)
Nett Weight: ~440kg
HS Code: 8419.81.10
Genio 6 Features
Flexible Batch Sizes

Roast anything from 1kg up to a full 6kg batch in less than 12 minutes. No need to only fill to 80%. The Genio 6 can handle any roast, even samples.

Profile Control

Our state-of-the-art ProRoast control system is included as standard in Genio 6 model. See every setting change in real time and compare your current roast with over 3000 roasts stored in your database

Continous Operation

With separate fans for cooling and roasting, and an automated Between Batch Protocol to reach Charge Temp in minimal time, you never have to wait for the roaster. It waits for you.

2-Year Guarantee

With our industry-leading 2-year guarantee, you know that your business' main source of income is in safe hands. We understand the importance of having an always-functioning roaster.
Precision vs. Professional
Our roasters come in two distinct versions. The Professional version includes our full automation system. Regardless, both the Precision and Professional versions still have a full colour Android touch screen and will display all of your profiles, store them and allow you to retrieve roasts from your database. You won't go wrong with either version.
| Options | Professional |
| --- | --- |
| Touch Screen Tablet | ☑ |
| Profile Logging | ☑ |
| Reference Roast | ☑ |
| Auto Pilot Roasting | ☑ |
| Full Profile Roasting | ☑ |
| Custom Colours | ☑ |
| Automated Hopper Door | ☑ |
| Cropster/Artisan Integration | ☑ |
| 1-year Warranty | ☑ |
Genio 6 Advantages
Design

Beautiful lines and a selection of colours makes the Genio 6 a machine that will fit into any interior design. Built from the ground up by Genio Roasters' expert team of engineers and designers, the Genio 6 was designed for in-shop, own-use roasting in mind.

Engineering

The latest materials and design techniques were used to develop the Genio 6. A double-wall drum ensures perfect heat distribution throughout the coffee with the focus on convection heating for perfect flavour development.

Control

Our state-of-the-art ProRoast smart control system ensures perfect control and repeatability of roasts. Capable of storing and repeating over 3000 profiles, you can share your profiles and collaborate with like-minded roasters from around the world.

Precision

Control every aspect of your roast. Switch in and out of various automation modes at any point during a roast. Control your gas in 1% increments or change your drum or fan speed on the fly. Nothing is pre-set; you have full control during the entire roast profile.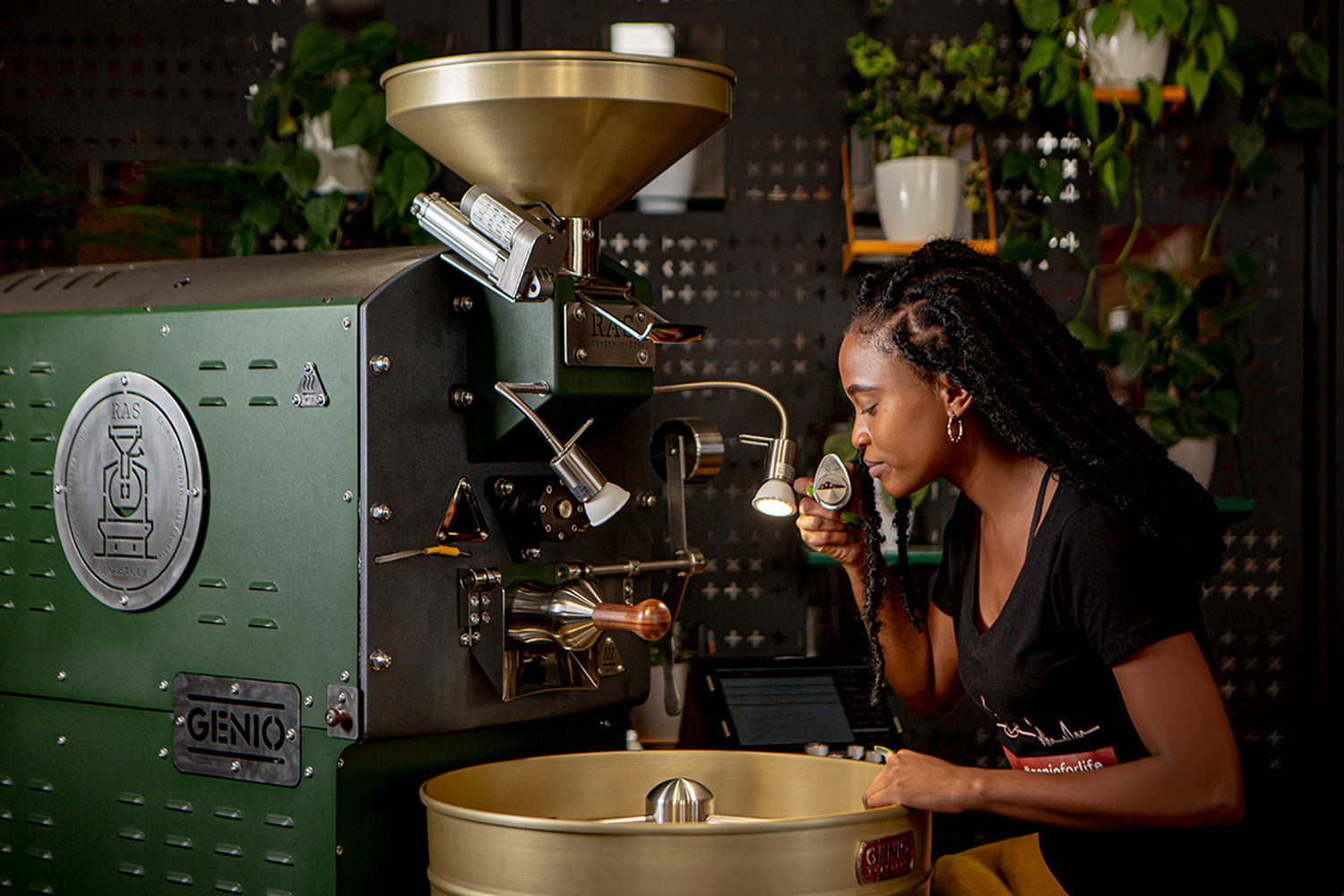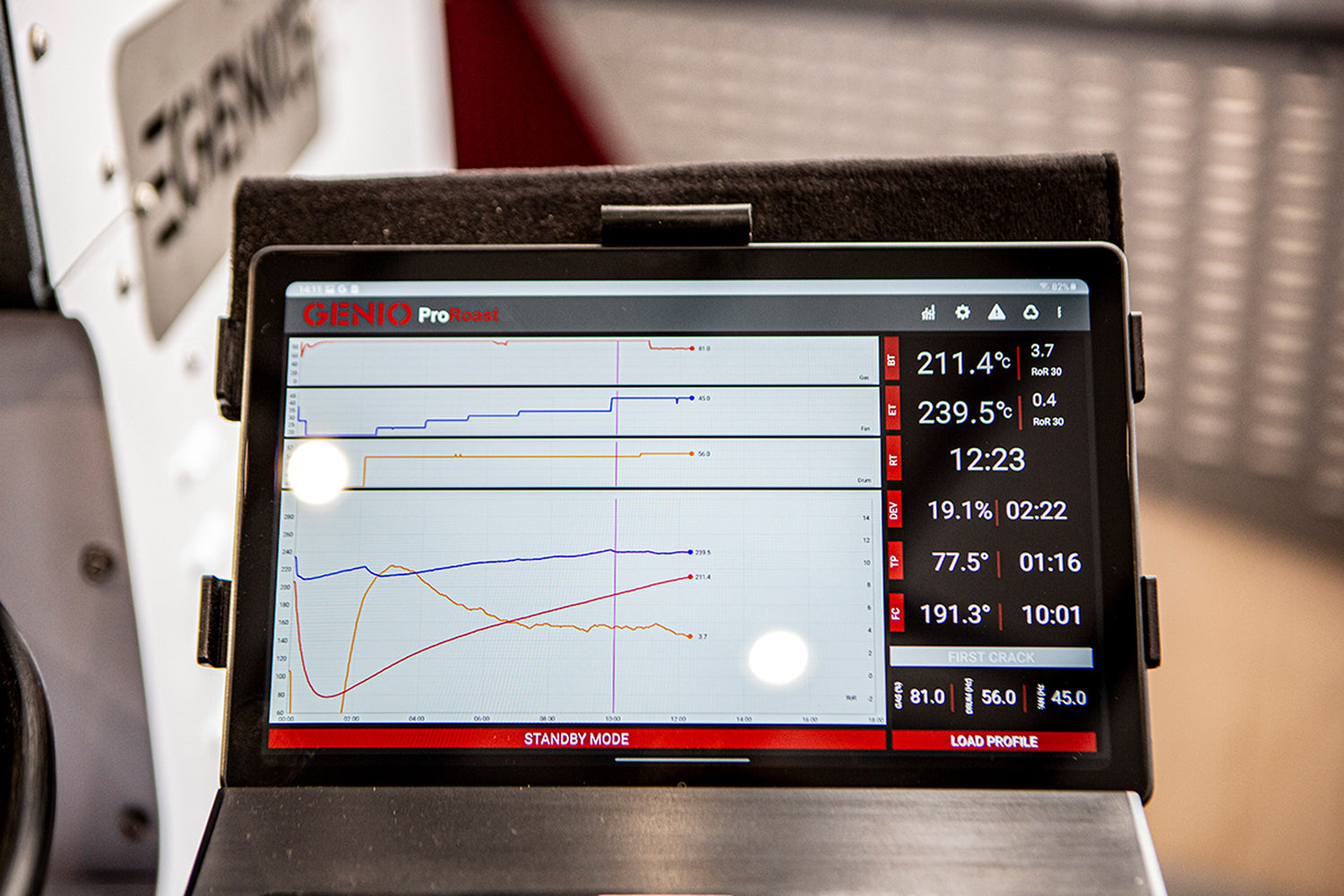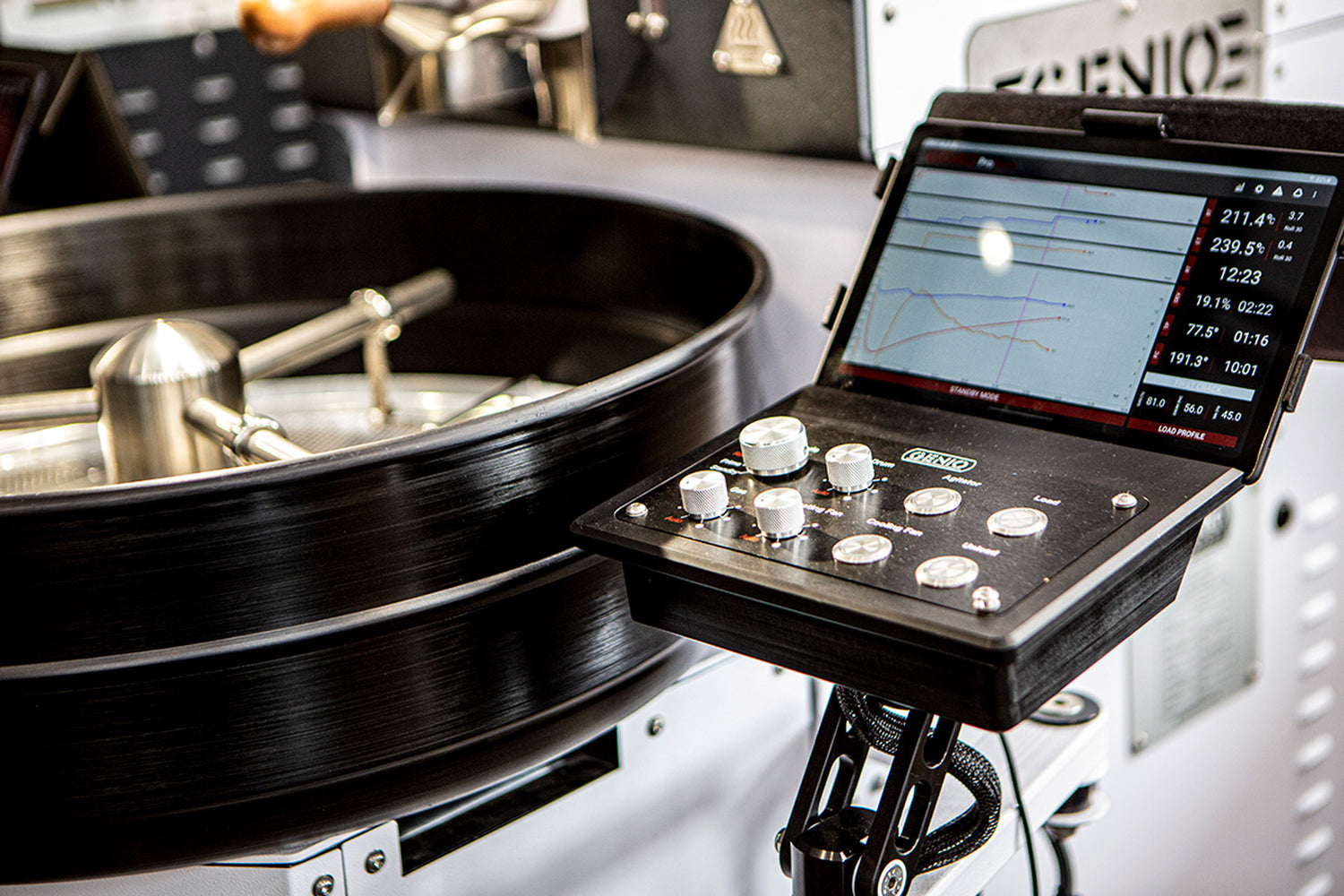 ProRoast Profiling System
Neil Maree, CEO and Founder, takes us through 4 different roasts to showcase the power and flexibility
of the ProRoast Smart Control System. See the 4 roasts below as he progressively increases the amount of convection heating to showcase different coffee roasting theories.
Proroast Brochure
High Conduction Heat

A 6kg batch on a Genio 6 Precision Series coffee roaster. The settings used were low fan speed and low drum speed throughout the entire roast to set a baseline for seeing what effect maximum convection heating has on a roast profile.

High Convection Heat

In this video we compare a roast with high air flow and drum speed against a roast that had low air flow and drum speed. This is to showcase what effect maximum convection heating has against a roast with maximum conduction heating. It is clear how much faster the roast progresses by just looking at the bean temperature difference. More convection heating results in far higher bean temperatures and shortened roast times.

Stepped Convection

In this roast we step up fan and drum speed gradually throughout the roast. This gradually increases convection heating as the roast progresses. While not as fast as the full convection roast, it allows for more control of the flavour development throughout the course of the profile.

Full Profile Roasting

In this roast we employ the full might of the Genio ProRoast profiling system. The computer takes control of the gas settings (seen at the top as the red graph) to precisely follow the bean temperature curve. But we still play with fan and drum speed settings. So we can have different flavour profiles by roasting the exact same temperature profile but using a different heat transfer profile.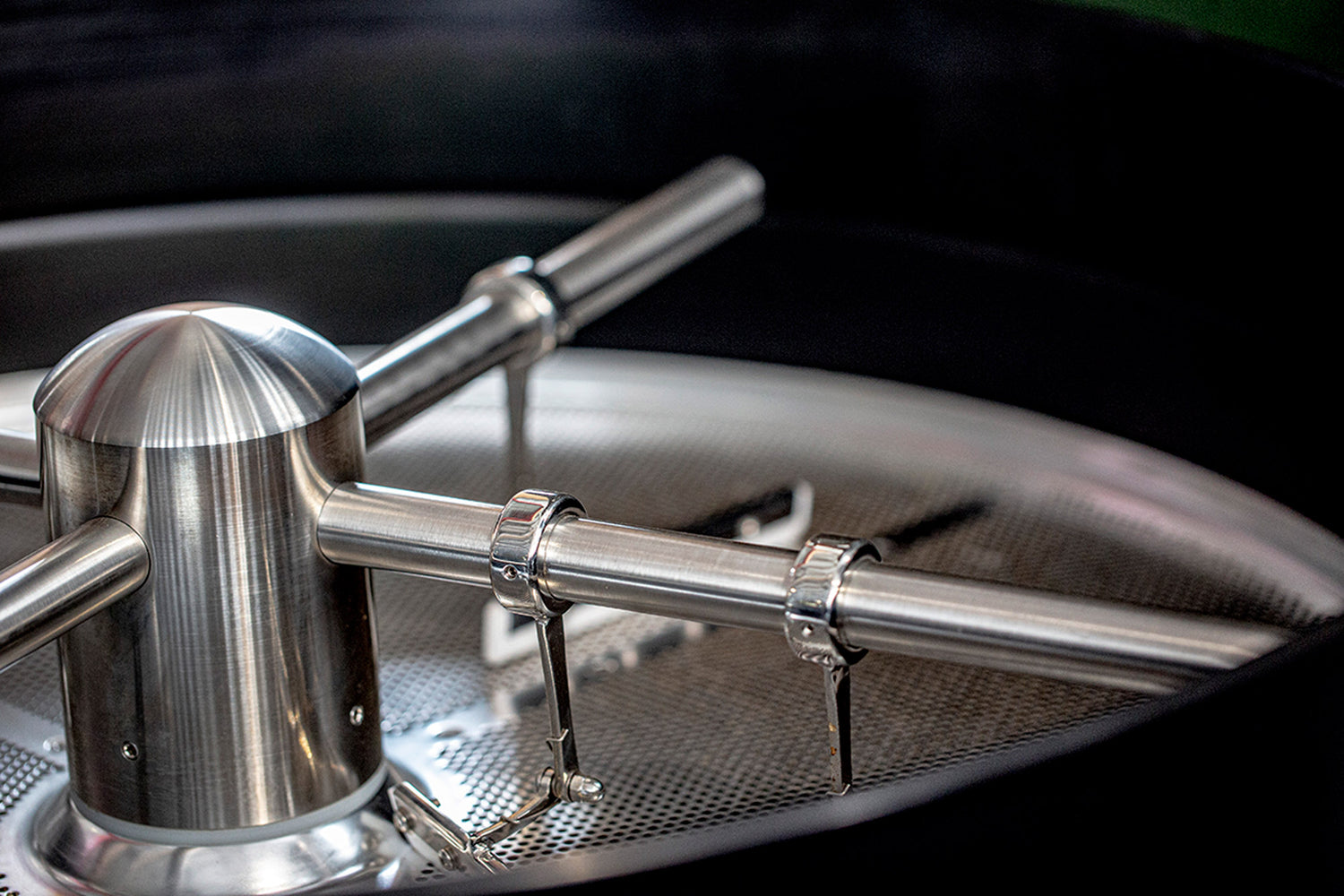 Want to see more?
Download our Genio 6 Shop Roaster brochure to share with your partners and make an informed decision.
Genio 6 Brochure
FAQs
Roaster Operation
See some commonly asked questions about the machine's actual operation, features and functioning.
What makes a Genio different from other roasters?

Our biggest selling points are our personal service and our control system. Any professional roaster manufacturer should be able to give you a pretty good roasting machine. But how you interface with the machine, how it presents the information to you, and who you can speak to if you need urgent support is definitely where Genio Roasters shines.

Our customers buy Genio because they want a Genio. They believe in us and we believe in them. We are not the cheapest. nor the most expensive. We are Genio. And that is why people buy our roasters.
What is the main heating method?

A typical drum roaster has around 70% convection heating and 30% conduction heating. But our machines are different: Because we have so much control over the roasting process, our clients can increase or decrease the ratio between convective and conductive roasting with ease.

The basic heating method is this: fresh air is drawn over an atmosperic burner and heated before entering the back of the drum. The flame size (gas pressure), fan speed (how much air goes trough the beans) and drum speed (how much beans are in contact with the hot air) is then used to control the rate of heat application throughout the roast. Smoke and chaff is sucked out of the drum and the coffee bean chaff is deposited into the chaff cyclone.

Take a look at the ProRoast videos above to see how Neil Maree used fan and drum speed settings in conjunction with our Profile Mode to roast exactly the same temperature profile, but completely different heat transfer profiles.
Can you really do 200g samples all the up to 3kg?

Yes and no. You can most certainly roast 200g-1kg in the machine. It will be a fast roast at about 6-8 minutes, and you will not be able to see the precise bean temperatures during the roast (because there is not enough beans in the drum to get an actual measurement from. But you cannot recreate such small batches with accuraccy. But that is not the point of a sample roast. The purpose of a sample roast is to evaluate the green beans, not the roasted beans. It is not to create the perfect espresso roast, but rather to create a light roast to cup and decide if you want to stock this coffee and develop proper profiles later on or not.

As for 1kg-3kg batches: yes, you most cetainly can. Some "experts" still believe that roasters cannot be filled over 80% of the maximum capacity. That is why we built our drums 20% larger than anyone else. Our optimum batches is not our maximum batches. You can probably roast 4kg in a 3kg roaster, but the roast will not be ideal. Our machines are designed to perform at their best at a full batch and anything below.
Shipping questions
Shipping is a big deal. But not for us. See answers to your most-asked questions below
Do you ship to my country?

We have a full-time logistics department who actively amnages all of our international shipments. We have delivered roasters to active war zones and to remote islands. We can deliver anywhere.
How long does it take to arrive?

Our standard lead time is 8-12 weeks from receipt of the deposit. Shipping times are more difficult to pin down. We can promise heaven and earth, but without a firm quote from our freight forwarders we cannot give an accurate estimation online. Add your goods to the quote and complete the checkout. From there we can request accurate shipping quotes and transit times.
What about duties and taxes?

We generally leave this up to our clients to arrange the clearing and last-mile delivery of the roasters. We have found it to be prohibitively expensive to deliver the roaster door-to-door, but not impossible. Our freight forwarder will contact you on arrival of the machine to arrange for clearing and you will be sent an invoice directly from them. We do ship duty free to EU countries. As with all things, you will need to pay taxes.

But don't let this put you off. Our sales and logistics office will guide you every step of the way.
Is the shipping crate an additional cost?

No! Not anymore. We have decided to include the shipping crate for free on all roasters. Bear that in mind when you compare Genio to other manufacturers :)
What is CIF, EXW etc?

Incoterms are standardized terms used all over the world to describe shipping conditions: where and when responsibility for the shipment is handed over from the shipper to you, the consignee.

Most of our shipments are CIF: Cost, Insurance and Freight. In other words, we deliver the roaster to you nearest major sea port and our shipping cost includes insurance up to the port. From there, the freight forwarder takes over and communicates directly with you. It is really not as daunting as it sounds!
After Sales Support
Will we leave you stranded without a roaster? Find out below.
Do I need training before I can start?

We include basic training in our service. But our focus is more technical: we want the machine itself to be ok, and we want you to know how to operate it. We will of course roast some great coffees in the process, but that will not be the focus.

We suggest getting a roaster consultant (we can put you in contact with on in our network of friends and family) if you are brand new to roasting. They will really help you to feel comfortable with the machine and, more importantly, with the coffee.
What if I need technical support?

We are (almost) always on standby. Because we have clients in so many different time zones, we also need to sleep from time to time. So we like to limit our support times to the South African time zone of GMT+2:00. But this is not to say that we won't help. If you need us urgently, just say so. We always find a way to help clients even if it is 3am or 11pm in our time.

We do most of our technical support world-wide via email and Whatsapp. We are fully set up for this. Situations where we are required to be on-site are exceedingly rare. And, in those cases, we work with you to find a suitable solution that fits everybody's pockets.
Coffee Roasting as a Business
Can you make money from roasting coffee? Check out our Q&A below.
Can I get some advice from you?

Yes, of course! That is precisely what we sell: not products, but busiensses. If our customers are successfull, we also thrive. With so many installations in so many countries around the world, we know exactly what you need. And if we don't we will find out from someone who does!
Do you have a distributor in my country?

Probably not. Many manufacturers out there appoint whoever their first customer in a new country is as their defacto agent/dsitributor. But this does not mean that this person knows anything about the equipment, or can provide you with any real support. The best people to look after you is ourselves. No one else in the world are as committed and invested as we are in our own products. So we would rather skip the inevitbale disappointment of finding out that the local "distributor" knows nothing about the roaster, and deal directly with you from day one.
Can I make money from roasting coffee?

Of course you can. Otherwise we would probably not be in business. Over the years we have compiled a wonderful online calculator that helps you to gauge how much coffee you need to see in order to turn the profit that you need to make the business feasible for yourself. Contact us and we will gladly walk you through the calculator as if it were a mini business plan.
What if it all fails. Can I sell the roaster?

Yes, a roaster is an asset just like a car. But where a car looses you money, a roaster can make you money. We do have the odd used roaster for sale from times to time, but very rarely because the business could not make a profit. In most cases it is when people upgrade to bigger machines or when the business structure changes.

We can also help you to find a new home for your Genio roaster (we do not sell other brands).
Can I get a discount?

Our website is built in such a way that there are plenty of ways to get a discount. From reward points to customer referrals and bundled discounts or special offers.

One venue to explore in particular is our rewards system. If you refer someone to use, or if you share, review and promote Genio in some way, we will gladly reward your efforts in kind.
Can I become your distributor or agent?

Sure! We do have some conditions though, and they mostly revolve around your intent. We find that roasters do not make good distibutors. This is simply because their time is better spent roasting than it is to sell roasters. Plus, few people will buy a roaster from their own competition. But this is not always the case and we are happy to consider any possibility of collaboration with you.

Distributorships mostly revolves around keeping stock machines (unused, boxed up units ready to be sold) adn the ability and willingness to provide technical support to customers.
We are here to help.
Find some of the most-asked questions and answers below. Alternatively, feel free to use the support icon in the bottom left of the page to ask a question to the Genio team (we do not use bots. All chats are with real people in the Genio office).
Need more information? Of course! Let's chat.